A lot of interesting things are happening in the upcoming days. For one, my son's birthday is next week and then after that I'll be starting school. I like to start after his birthday, less stress for me....all of us actually. So I'll be blogging here and there...I really want to blog Friday but we'll see.
In the meantime, don't forget to check out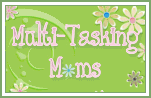 and our new Friday Feature
If you haven't heard, there's a contest to win Leslie Sansone's Walk Slim System, so hurry contest end Friday. Also, we're looking to feature one of you Multi-Tasking Moms, to find out more info, click ------>
HERE
!
Have a great week!